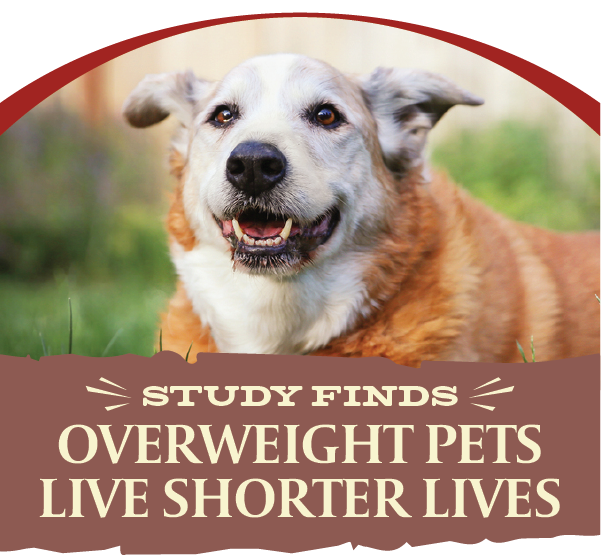 Study Finds Overweight Pets Live Shorter Lives
A new study from the University of Liverpool has shown that overweight dogs are likely to live 2½ years less on average than dogs with a healthy body weight.
The study examined records for more than 50,000 altered male and female dogs of various breeds. The connection between being overweight and a shorter lifespan was seen in all the breeds, as shown in the charts below.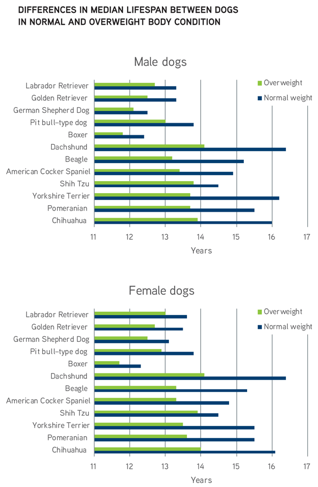 Just like people, these "fluffy" pets are also more likely to develop diabetes, osteoarthritis, high blood pressure, heart disease, joint injuries, and cancer While the study did not include cats, it's safe to say they can suffer from similar disease risks and shortened lifespans as dogs if they are significantly overweight.
If your pet is carrying some extra pounds, your San Bruno Pet Hospital veterinarian can help with nutrition and exercise recommendations. If you have concerns about your pet's weight and health or want to schedule a consultation, don't hesitate to give us a call at (650) 583-5039.
All A-Board for Summer!
No, it's not too early to start planning for summer vacation—and summer boarding for your pet!
We offer clean, comfortable veterinary-supervised accommodations for dogs and cats with lots of one-on-one attention. Our boarding vacancies tend to fill up quickly for summer, so it's a good idea to make your reservations as soon as you know your travel dates to ensure your pet's spot.
Also, we want to remind you that we do have vaccination requirements for any pet boarding with us. We ask that you make sure your pet's shots are current before they arrive, as immunity takes a while to develop after inoculations are given.
To make a boarding reservation or schedule an appointment for vaccinations for your pet, give us a call at (650) 515-4340.