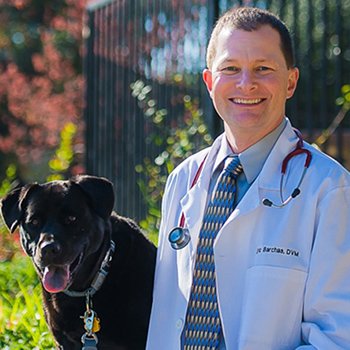 Medical Director
After graduating from UC Davis School of Veterinary Medicine in 2000, Eric worked in San Francisco as a general practitioner, then in San Mateo, first as an emergency vet and later as Medical Director of an emergency clinic. At this clinic, Eric worked frequently with the team at San Bruno Pet Hospital.
Eric was excited to make the move to San Bruno Pet Hospital in March 2017, and in his position here he truly has found his calling. He is dedicated to making San Bruno Pet the best possible place to be a patient, client, or team member.
Eric's hobbies and interests include travel, cooking, reading, outdoor activities, and learning. He lives in San Francisco with his wife, Denise, his yellow Lab, Keenan, and his brindled mutt, Scottie.