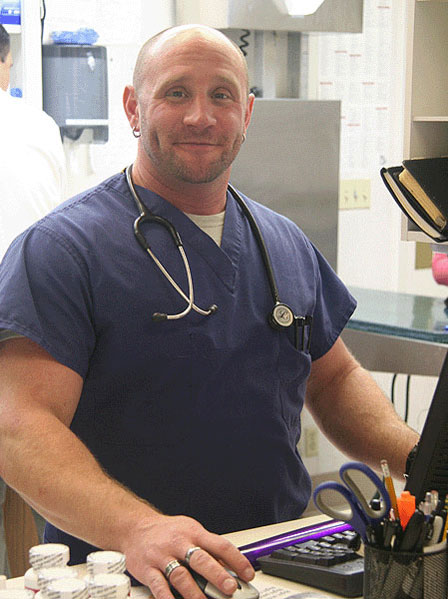 Nursing Department Manager
Aaron is our Nursing Department Head Nurse, and HR Manager. Aaron loves all animals and people, but has a special fondness for large dogs.
He had 16 years experience when he joined us in 2006. Aaron graduated 2nd in his class at Western Career College in 1993. He then went one to receive his Bachelors in Business Administration degree with special focus on Management in 2002 from Saint Lourdes University. In addition to the usual RVT training, he also has had several years of management training and 5 years experience managing 5 hospitals. Although he is very talented in management, He is pleased to be back in general practice at San Bruno Pet. He functions not only as our Nursing Department Manager, but also our Human Resource Manager here at San Bruno Pet. He lives in San Francisco with his life partner of 7 years, and loves their pampered/special needs Old English Bull Dog, Turbo. In his time off, he enjoys weight training and going out with friends. Aaron has been instrumental in creating a cohesive and collaborative effort amongst the entire staff here at San Bruno Pet. You will find that he is articulate and outgoing. He is also our advice nurse. Aaron has spent many years assisting us to build a very talented and experienced team in order to allow our practice to flourish and be successful. Aaron loves his family very much and makes sure that our practice runs in a very efficient manner.