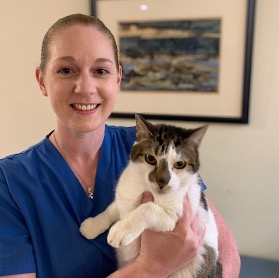 Dr. Robin Heagy is originally from the suburbs of Philadelphia, Pennsylvania. She received her bachelor's degree in Wildlife and Fisheries Science from Penn State University and she completed her veterinary degree at the University of Pennsylvania in 2013. She relocated to the Bay Area with her husband in 2016 and they love living here.
While Dr. Heagy loves all creatures and is especially passionate about wildlife and reptiles, she currently only treats cats and dogs. She has a particular love of cats because she always had a pet cat growing up.
Her current pets include 2 cats, named Penny Lane and William, and 3 pet snakes. In her free time, she enjoys hiking, camping, going to concerts and spending time with her husband and friends.